Six Forbidden Wonders in Far Away Places with Strange Sounding Names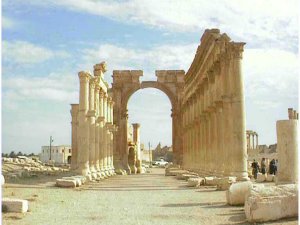 TADMOR
(PALMYRA)


Tadmor (Palmyra) is located in the desert of Syria. Syria is not the friendliest regime to Americans. It is Far Away and will be Forbidden until attitudes in Syria change, but the modern name really isn't that strange, is it? Is there a Palmyra in your state?

Tadmor, or Palmyra, was an oasis city on the Silk Road from China to the Mediterranean for a thousand years. It taxed the caravans and grew wealthy. By 217 A.D., it was part of the Roman Empire. About 268, under Queen Zenobia, it conquered Egypt and Turkey and tried to take on Rome itself. They lost and the city was sacked. The city was totally destroyed in an earthquake in 1089.

This picture is from: Palmyra

For additional online information, try these sites:

For further printed information, I suggest:

Ball, Warwick. Syria: A Historical and Architectural Guide. 1997.
Browning, Ian. Palmyra.
Vaughan, Agnes C. Zenobia of Palmyra. 1967.

MAIN PAGE
---
You are the
visitor since 1 Mar 1999.