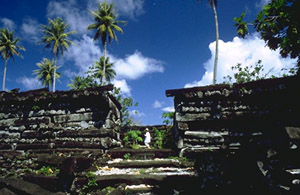 NAN
MADOL


Nan Madol is located on Pohnpei (Ponape), an island in the Caroline Islands group of the Federated States of Micronesia, northeast of Australia and east south east of Guam. OK, it's not forbidden, but it is Far Away and it certainly is a Strange Sounding Name.

The ruins at Nan Madol consist of 92 man-made islets covering an area of approximately 200 acres. It was a political and religious center for the Saudeleur dynasty of chiefs from approximately 1100 to 1600 AD. The most spectacular of the islets have remains of sea walls, tombs and other structures built of large columnar basalt stones, brought to Nan Madol from other parts of Pohnpei.

This picture is from: Mysterious Nan Madol

For additional online information, try these sites:

For further printed information, I suggest:



Childress, David H. Ancient Micronesia & the Lost City of Nan Madol.

MAIN PAGE
---