Six Forbidden Wonders in Far Away Places with Strange Sounding Names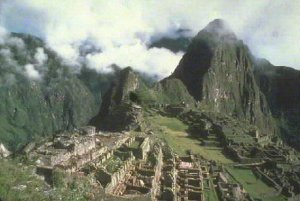 MACCHU
PICCHU


Macchu Picchu is located in the Andes of Peru, in the mists of time and history. With the suppression of the Shining Path guerillas, it's not as Forbidden as it might have been at one time, but it is Far Away and has a Strange Sounding Name.

The ruins at Macchu Picchu are the remains of an Inca royal estate deep in the jungle and high in the mountains. It was never conquered by the Spaniards. Indeed, it had probably been abandoned before they arrived. It was rediscovered by Hiram Bingham about 1912 and reported in the National Geographic.

This picture is from: Window on Peru

For additional online information, try these sites:

For further printed information, I suggest:

Davies, Nigel. The Ancient Kingdoms of Peru. 1998.
Rachowiecki, Rob. Lonely Planet Peru. 3rd Ed. 1996.



MAIN PAGE

You are the
visitor since 1 Mar 1999.